Dust layer and surface filtration mechanism-02 surface filtration mechanism
Views : 52
Author : filterworkshop.com
Update time : 2020-01-13 11:21:36
Dust layer and surface filtration mechanism-02
2-surface filtration mechanism
Based on the theories that the formation of dust layer is conducive to filtration, a layer of microporous film is artificially covered on the surface of ordinary filter material to improve the dust removal effect. Therefore, the membrane on the filter material surface is also called artificial dust layer.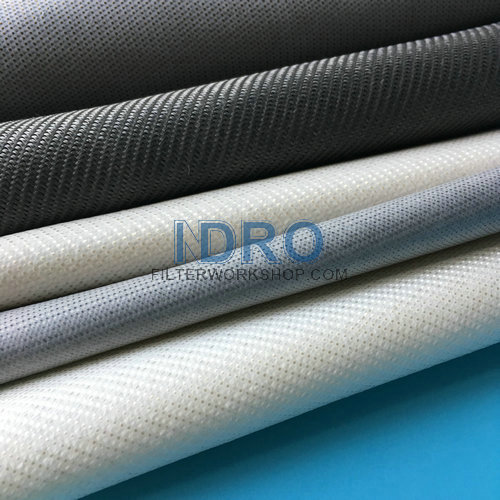 In order to control the trapping efficiency of different particles, the pore size of microporous surface films with different uses is variable. For example, when filtering ordinary dust, the pore diameter is usually less than 2 microns; when filtering bacteria, the pore diameter is less than 0.3 microns; when filtering viruses, the pore diameter is less than 0.05 microns. This kind of difference is just like the sieve opening. According to the requirements of upper and lower sieve, the sieve with different sieve openings shall be selected.
The surface filtering membrane can be covered on the surface of ordinary filter material or on the surface of plastic burning plate. At present, polytetrafluoroethylene is used as the membrane on the filter cloth. There are more than 20 types of membrane at the bottom, but there is only one kind of membrane. The thickness of the membrane is about 10 microns, and the products of each manufacturer are slightly different.
The mechanism of membrane surface filtration is the same as that of dust layer filtration, which mainly relies on microporous screening. Because the pore diameter of the film is very small, it can block most of the dust particles on the surface of the film and complete the process of gas-solid separation. This process is different from the separation process of general filter materials. The dust does not penetrate into the fiber supporting the filter materials. The advantages are: at the beginning of the work of the filter bag, a dust layer with good air permeability can be formed on the surface of the membrane, which can not only ensure a high dust removal efficiency, but also ensure a low running resistance; moreover, as mentioned before, it is easy to clean the dust.
It should be pointed out that the peeling off of dust layer on the surface of ultrathin film is quite different from that of ordinary filter bags. The test shows that the dust layer on the composite filter bag is easy to peel off, and sometimes the dust will fall off before the action of the ash cleaning mechanism. There is another important fact, even when hydraulic dust such as cement agglomerates on the membrane surface, it will be peeled off at the early stage. However, if the dust caking phenomenon is serious or the smoke condensation, the membrane filter material can not do anything, so other measures must be taken to solve it.