Polyester (PE) felt dust collector filter bags/sleeves
Item No.: SIIC-BDPE
Polyester (PE) felt dust collector filter bags sleeves with working temperature 130-150℃, are widely used in industries of cement plant, steel making & casting, carbon black and tire manufacturing, non-ferrous smelting, coking refractory...
INQUIRY
Description
Polyester (PE) felt dust collector filter bags/sleeves
Data:
Material: polyester felt
Weight: 350-650gsm
Working temperature: 130-150 degree centigrade
Basic finish treatments: singed, calendered, heat set
Available functional treatments: water and oil repellent, anti-static, ptfe lamination or membrane.



Size:
Diameter: normally 4.375"(111.125mm), 4.5"(114.3mm), 4.625"(117.475mm), 4.75"(120.65mm), 4.875"(123.825mm), 5"(127mm), 5.125"(130.175mm), 5.25"(133.35mm), 5.625"(142.875mm), 5.85"(148.59mm), 6"(152.4mm), 6.1"(154.94mm), 6.25"(158.75mm), 8.5"(215.9mm) and others be custom made as per your requirement.
Length: normally 121" (3073.4mm), 145" (3683mm), any other lengths are available.
Structure:
Bag body: stitched or welded
Bag top/bottom types: beaded snap band top/bottom, raw top, hemmed top, corded/rubber O-ring top, thick gasket top, disc bottom, flat sewn bottom, bottom with reinforcement(cuff bottom)
Bag shapes: standard round tube, envelope or other special shapes can be custom made as per customers' requirements.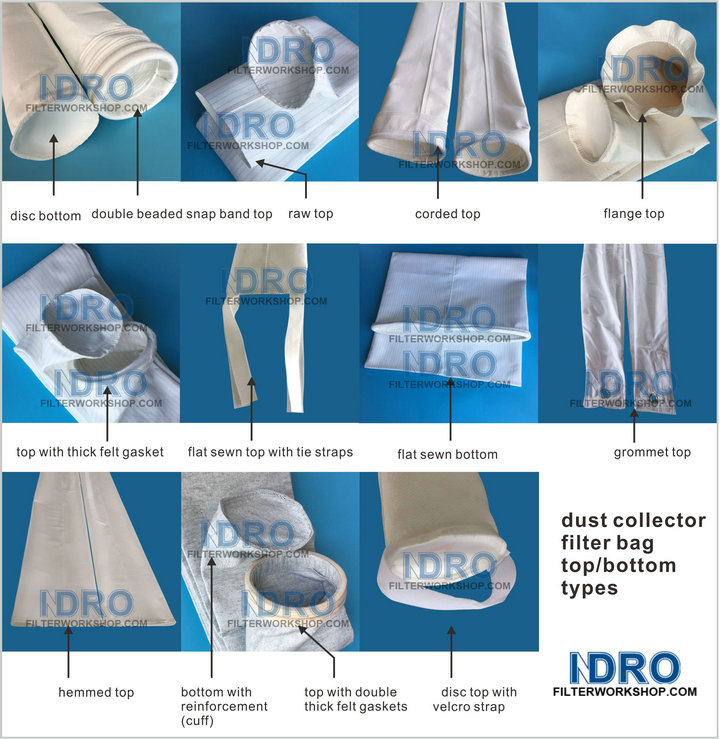 Features:
-Economic material
-normal temperature resistant
-Made of 100% virgin polyester fiber
-Acid resistance: normal
-Alkali resistance: normal
-Direct manufacturer
Applications:
Polyester (PE) felt dust collector filter bags sleeves are widely used in industries of cement plant, steel making & casting, carbon black and tire manufacturing, non-ferrous smelting, coking refractory, building materials industry, plastic PVC/ ABS resin, light Industry, chemical industry, food processing, pharmacy, boilers and other fields where need normal temperature dust collection.

Polyester (PE) felt dust collector filter bags sleeves application examples:
White cement kiln filter bags
Cement plant/mills filter bags
Cement coal mill filter bags
Filter bags used in asphalt mixing
Filter bags used in flour plants/mills
Filter bags used in woodworking/wood-processing
Filter bags used in rubber refining